Let's be real: no one wants to pay more for insurance than they have to.
And for most of our customers, saving on insurance is not just a matter of convenience or preference – it's a matter of making homeownership in the state sustainable. Florida continues to outrank the rest of the country for highest home insurance rates. It comes second only to Louisiana for highest prices paid for coverage, and its rates keep increasing. (Check out our guide for a more comprehensive look at homeowners insurance costs throughout the country.)
As of last quarter, several prominent Florida insurance companies filed for "staggering" rate increases, some as high as 36.5 percent. You can imagine the strain that would put on anyone's budget, nonetheless homeowners who are already paying top dollar for coverage.
This is a long way of saying: we take our mission to help homeowners save money on insurance seriously. And according to our latest Customer Savings Survey, we're delivering on our promise – and more.
Let's take a look at what the data shows.
How Much Do Customers Save on Average with Kin?
Based on survey responses from 2018 - 2020, our customers save $604 on average when they switch to Kin.
For 2020 alone, we've helped our customers save $574 on average, and we anticipate that number will increase before the year's through. Compared to other Florida insurance companies, we are 15 percent cheaper on average. Learn more about how we stack up to the competition.
Why Do Homeowners Choose Kin?
We're always curious about what brings customers to our door, and our survey shows that price is (unsurprisingly) the biggest motivator, with better service coming in second.
We're not surprised that better service and ease are big driving factors in purchasing decisions. Usually, getting homeowners insurance means going to an agency, answering a bunch of complicated questions about your home, and waiting (sometimes for days!) to get a quote.
We know homeowners insurance is supposed to be a digital product – you can't exactly hold insurance in your hands, can you? – and that allows us to simplify the experience. Most customers can get a quote and buy online in minutes.
Would Homeowners Recommend Kin to a Friend?
Our survey also shows we're surpassing every other insurance company in customer satisfaction. We ask every customer how likely they are to recommend us to a friend to measure our Net Promoter Score, and the results are impressive.
Our latest results show we have an NPS score of 84, well beyond the average of 35 for the home insurance industry. Whereas most folks wouldn't recommend their insurance company to someone they care about, our customers seem eager to share their experience.
Here's a snapshot of how our NPS compares to national insurance companies.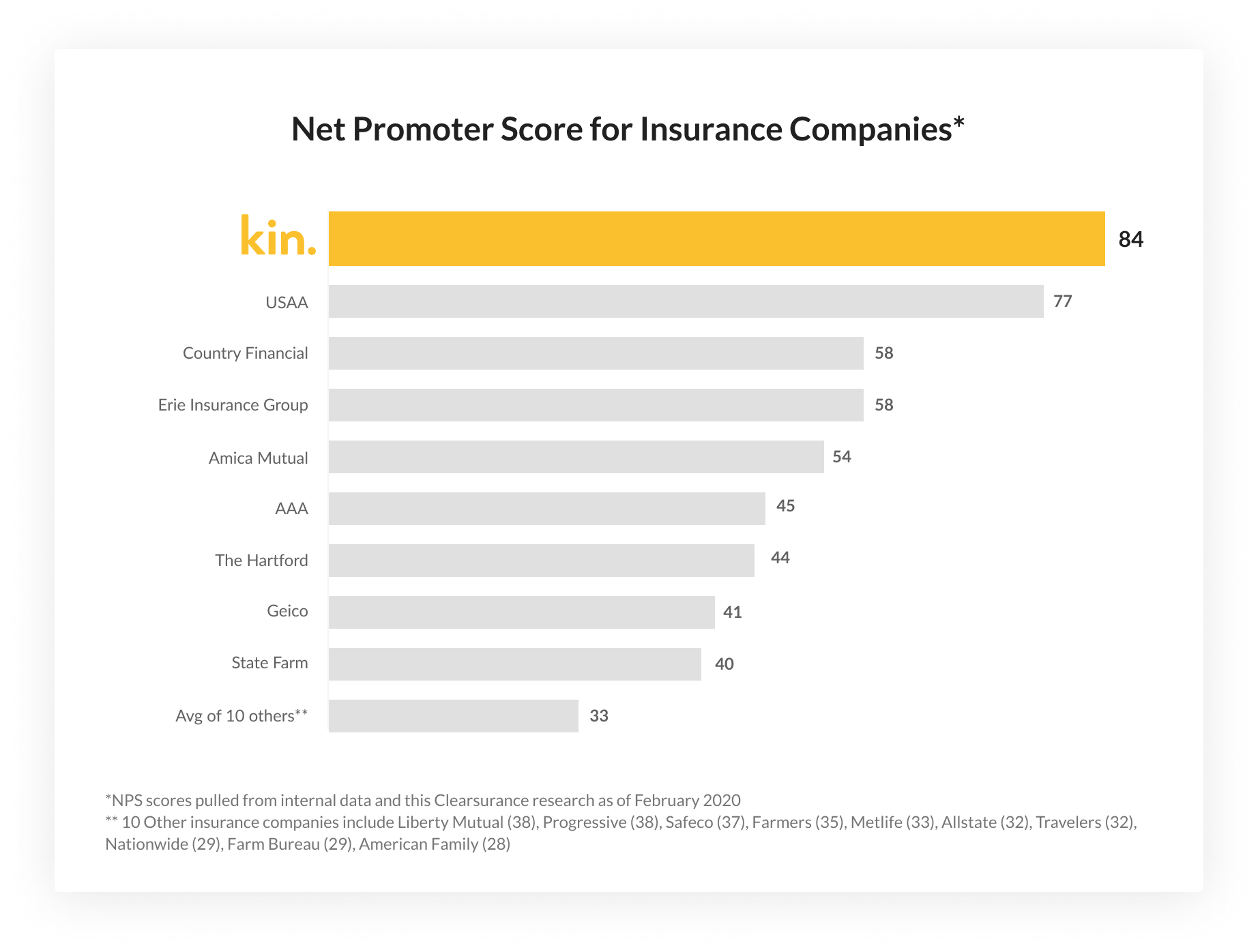 The Takeaway
We hope this peek behind the curtains proves that you don't have to choose between saving money and enjoying excellent service from your insurance company. But don't take our word for it. Let our customers – who've left us more than 1,700 reviews on Trustpilot – do the talking.