California wildfire season is the hottest and driest part of the year: May through October. Though climate change has altered wildfire season as we know it, homeowners should be extra vigilant during warmer months. Wildfires are only getting more frequent and severe.
The 2020 wildfire season is already shaping up to be one of the most extreme seasons California has experienced. Thanks to the ongoing drought, there's plenty of dry vegetation and dead trees that act as fuel once met with the smallest spark.
Wildfire season is only getting longer and more severe, but don't take our word for it. These California wildfire statistics show just how much wildfires have changed over the years.
California's Wildfire Risk at a Glance
California had more wildfires than any other state in 2019, and by California standards, 2019 was a mild year. State and local resources fought 7,860 wildfires that burned more than 259,000 acres. By contrast, Alaska had 720 wildfires that burned 2.5 million acres, and Arizona had 1,869 fires that burned 384,000 acres.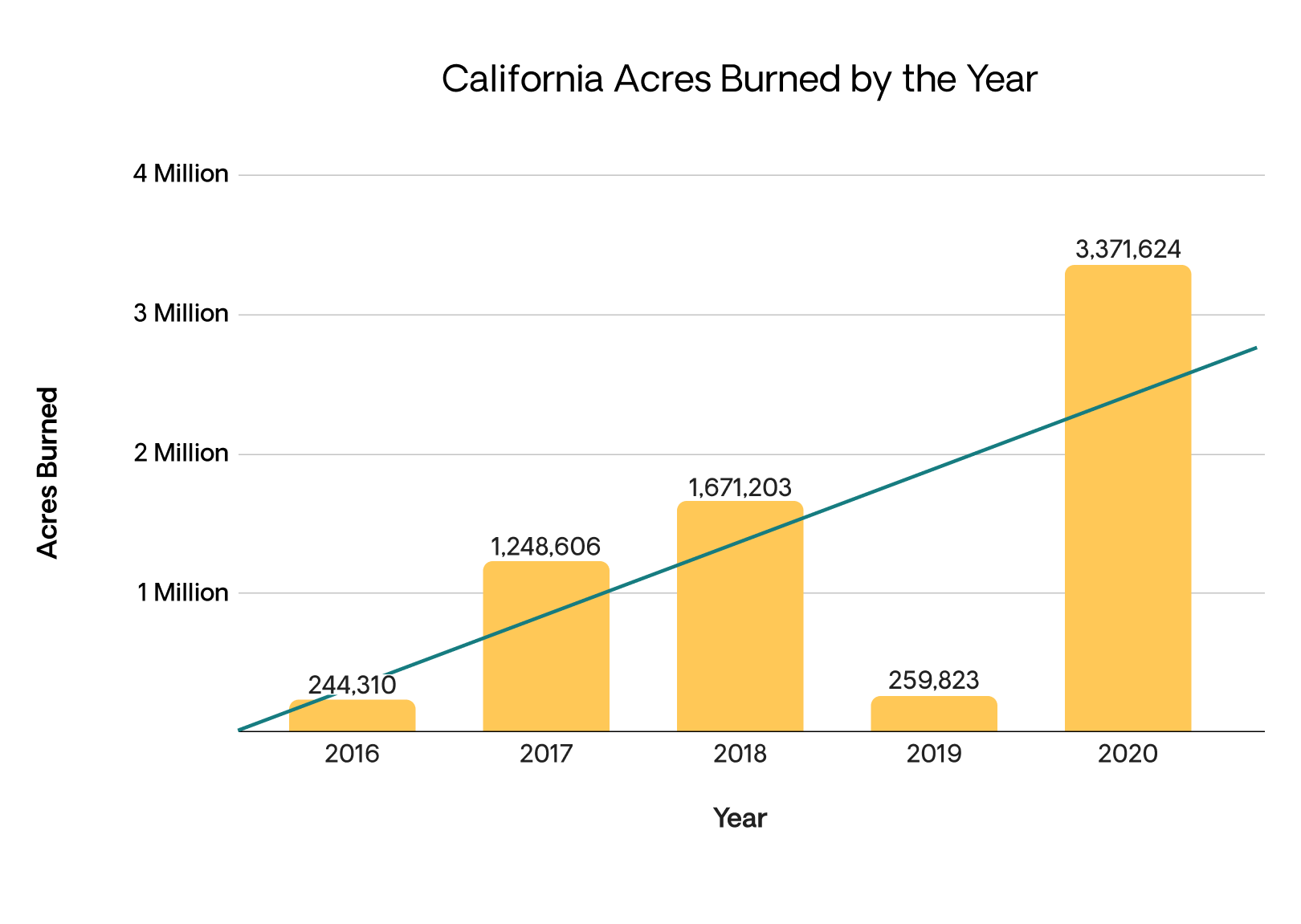 Source: Cal Fire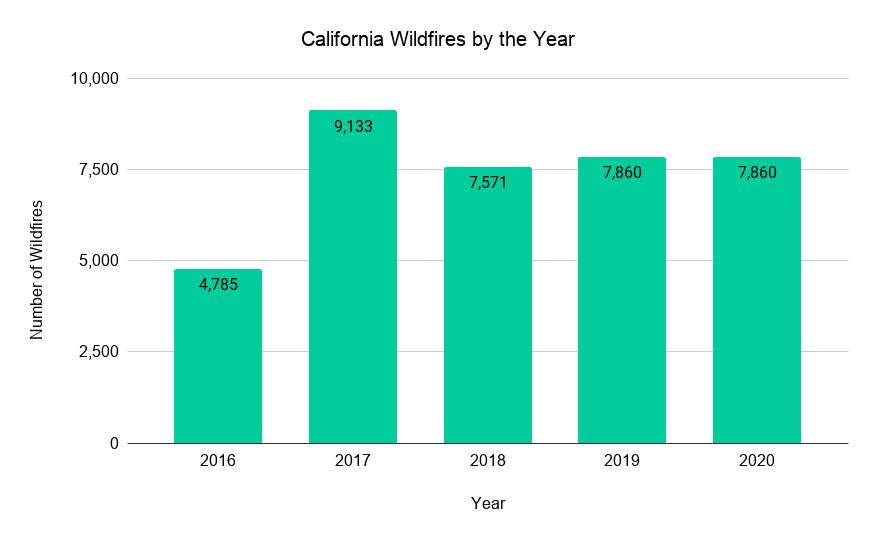 Source: Cal Fire
Top 10 Most Destructive Wildfires in California
Jump to this year, and California is on track to have the most destructive wildfire season to date. In August 2020 alone, nearly 585 wildfires burned nearly one million acres in a week and 700 homes.
In 2018, the Camp Fire destroyed the entire town of Paradise and claimed 85 lives. More than 52,000 residents had to be evacuated, and many didn't have a home to return to when the 153,000-acre fire was finally extinguished. Considered the most costly natural disaster in the world in 2019, federal aid paid nearly $2 billion just to remove toxic debris and $200 million to victims in need of aid. Total insured losses are estimated between $8.5 billion and $10.5 billion, and the total damage and economic losses are projected to be more than $400 billion.
Though California doesn't always have the most wildfires of any state, it usually has far more losses. That's because it's the most populous state in the nation, with nearly 40 million residents, and many folks live near or in wildfire zones, subjecting them to danger and property losses.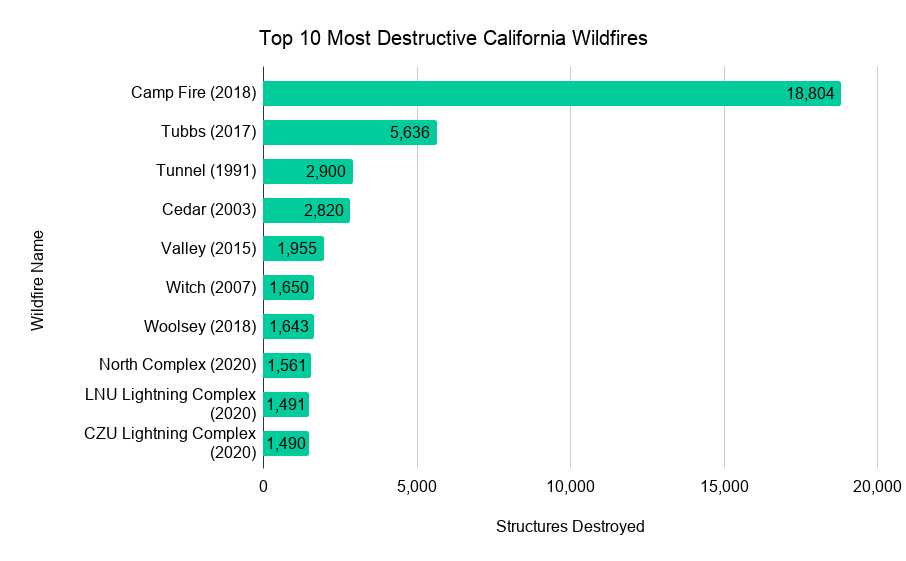 Source: Cal Fire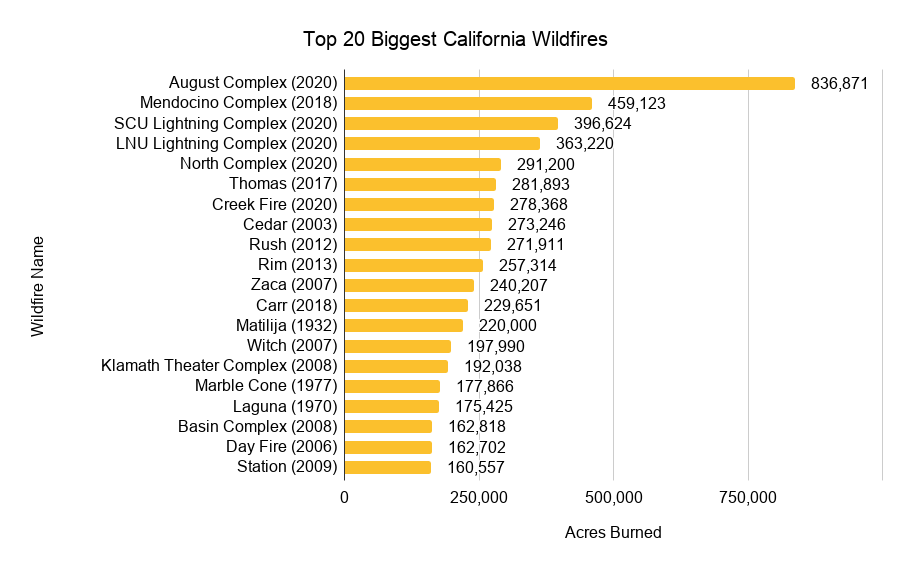 Source: Cal Fire
Top Wildfires Causes in California
California has perfect conditions for wildfires. Its risk is directly tied to:
Dry weather, thanks to an ongoing drought.
Lack of forest management.
An influx of development in the Wildland Urban Interface.
High winds.
Its dry weather is fueled by the longest drought in the state's history that started in 2000. While the most extreme part of the drought was between 2014 and 2017, Californians still face the repercussions of the water shortage to this day. As you might've guessed, you can thank climate change for the rising temperatures that cause droughts.
Native trees and plants are dying off, creating more kindling, and being replaced by invasive grasses that burn easily. The Forest Service tries its best to trim brush and implement prescribed burns to manage the forests and curb the risk of fires, but most of its yearly resources go toward combating massive fires instead.
As folks continue to develop and live in the Wildland Urban Interface, risk only increases. These homeowners could lose homes to wildfires and accidentally start fires themselves, especially if they don't adhere to brush clearance guidelines. Proper clearance means removing any and all native brush, weeds, grass, trees, and hazardous vegetation.
Coupled with California's Santa Ana Winds in the south and the Diablo winds in the north, a single spark could create and spread the massive wildfires we're seeing today (and cause those infamous fire tornadoes).
According to the Los Angeles Times, the following have all ignited wildfires in California:
Power lines / electrical equipment, as seen in the Camp Fire. California's ancient utility grid can easily cause sparks and ignite nearby lands. These fires often start in remote, difficult-to-reach locations and sweep across mountains and valleys, finding communities along the way.
Sparks from vehicles or lawnmowers, which caused the Carr Fire and Zaca Fire, respectively.
Signal fires, which caused the Cedar Fire.
Lightning, the culprit for the Rush Fire.
Human error (such as arson, campfires, cigarettes, fireworks, and faulty wiring). One rancher's mission to plug a wasp's nest by planting a stake into the ground caused the Mendocino Complex Fire.
The Department of Forestry and Fire Protection has identified 35 high priority projects to clear vast dead trees that increase fire risk. To put that in perspective, that's nearly 90,000 acres and 200 communities at risk.
The High Cost of California Wildfires
Wildfire destruction is costly. In 2019, more than $12 billion in claims were filed from the 2018 Camp Fire, Woolsey Fire, and Hills Fire. And that's just insured losses – many homeowners most at risk for wildfires may not have coverage.
AccuWeather estimates between damage to homes and businesses, belongings and cars, job and wage losses, farm and crop losses, infrastructure damage, school closures, highway closures, and power outage costs puts the 2018 wildfires at $400 billion in losses.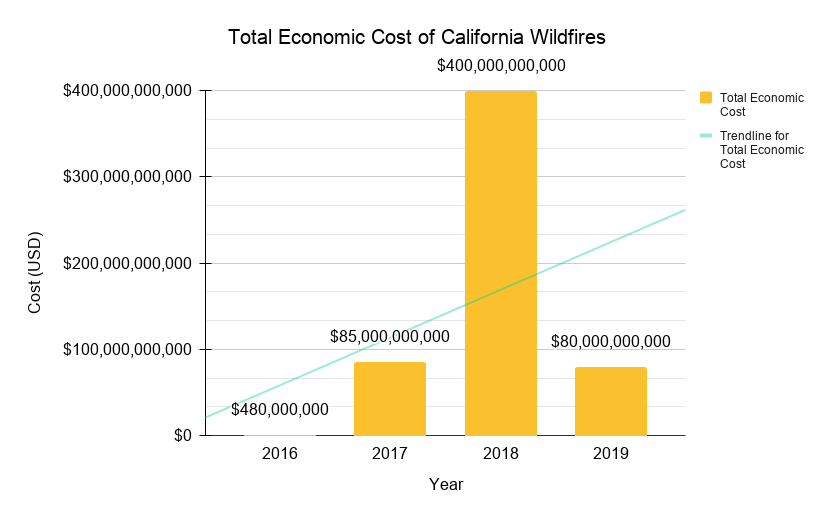 Source: AccuWeather
Wildfire Insurance Is Harder to Get
An estimated 350,000 California homeowners couldn't get home insurance after the 2018 wildfire season. Now consider that about 2 million California homes are in wildfire zones. Of those, nearly 80 percent are underinsured and 60 percent are significantly underinsured.
The sea change toward leaving these homeowners behind isn't the answer. Folks in hard-hit areas need the resources to rebuild after a fire, just like any other homeowner.
Homeowners who can't get coverage through private insurance companies are forced to buy policies from the California FAIR Plan. These policies are written on a named-perils and actual-cash basis by default, meaning the home is only covered for fire damage and claim payouts subtract the home's depreciation.
Fortunately, California homeowners insurance can help protect your home. You want coverage for your primary residence that's written on an open-perils basis (covers all risks except those explicitly excluded) for its replacement cost (you receive what it actually costs to rebuild your home from the ground up). Most policies cover also your belongings, other structures, loss of use, personal liability, and medical payments.
Most importantly, wildfire insurance is typically included.