As a first-time home buyer, you're probably paying closer attention to types of houses and styles of architecture than you ever have before. The dizzying array of possibilities, inevitably described by industry-specific lingo, can leave a novice scratching their head.
No one expects you to be an expert, but understanding the terminology can help you better explain what you're looking for to your real estate agent. That can save you time and energy while buying your dream home. Before you start talking about the style of the home, let's first lock in on the types of houses you can purchase.
Types of house structures
When your real estate agent asks what type of house you're interested in, they're most likely trying to figure out what you're looking for in terms of the physical structure. Do you want a home designed for just one family residence or does a multi-family home appeal to you? Are you okay in a structure where other people are just on the other side of each wall or do you want a standalone home?
Each type of house has unique features that appeal to different situations. Below is a list of six common structure types.
Single-family detached house
You probably already know single-family detached homes as standalone houses. These structures do not share a wall with any other residential or commercial space. Normally, a single-family detached home has space on all sides and a garage located somewhere on the property – either attached to the home or detached. A single-family home is designed to house one family.
Multi-family home
Multi-family homes are single buildings that can house more than one family so that each residence shares walls, ceilings, and floors. Duplexes, apartment buildings, and townhouses are good examples of multi-family. A multi-family home could even be a detached home with a secondary living space, such as a finished basement or loft above the garage.
Townhouse or row house
A townhouse or row house is a structure where neighbors again share walls. However, a townhouse usually has multiple floors, its own entrance to the street, and sits on land that belongs to the homeowner. They're usually designed to be part of a community, so you'll often find several townhomes lined up in a row or along a square. In many places, "townhouse" and "row house" are synonymous, but some only use row house to describe these attached structures when the outside of each residence looks the same as all the others.
Condominium
As far as the structure is concerned, a condominium can resemble a single-family home, a townhouse, or an apartment complex. What sets this type of house apart is its ownership. Condo owners own the walls of their residence and the space between them, but they don't own the land that it sits on or any common areas that may also be part of the complex. This is true even when the condo is built as a townhome, single-family detached, or multi-family structure.
Manufactured / Mobile home
A manufactured home, also known as a mobile home, is a structure that's built in a factory on a chassis so it can be moved to a plot of land. Like a single-family detached home, a mobile home is free standing, meaning it doesn't share walls with other residences. However, mobile homes are not built on a foundation, and owners often have to rent the land they live on. Mobile homes are a cost-effective way for people to afford a house.
Commercial property
Commercial property is real estate that's used for business purposes, including office buildings, warehouses, and large residential rental properties. There are some instances where a commercial building is zoned as a multi-use building, meaning it has both commercial spaces and residential spaces. The residential spaces are usually located above the commercial space.
Types of house styles
On top of asking about the structure of your dream home, your real estate agent will also want to know what type of house styles appeal to you. Style is the architectural design of the home and may be local to your community or state. For example, Massachusetts is known for Cape Cods while California is known for Spanish-style homes.
The type of house styles that are popular in your state depends on:
Climate: Sub-tropical Florida is an excellent example of how climate can impact house styles. Ranch-style homes are popular in the Sunshine State in part because hot air rises making it expensive to air condition a second floor.
Available building materials: Some building materials are less available in certain regions, so homes are less likely to be made of them. "In the Pacific Northwest, brick is uncommon because the material for making brick is not found there," according to John A. Kilpatrick of Greenfield Advisors. "However, the clay for brick is common in the southeast, where hardwood and cedar are not common. Hence, in Washington and Oregon you see lots of cedar homes, and in the southeast you see a lot of brick ranch style homes."
Local history: As Europeans burned a path across North America, some set up shop in different parts of the continent. Thomas Jepsen of Passion Plans, for example, says: "In Florida, where a lot of settlers were Spanish, the Mediterranean and Victorian looks are more prevalent."
Just as a heads up, there's going to be a lot of talk about roofs in the upcoming sections. You might want to check out "What's In a Roof" before reading about the various types of house styles.
Cottage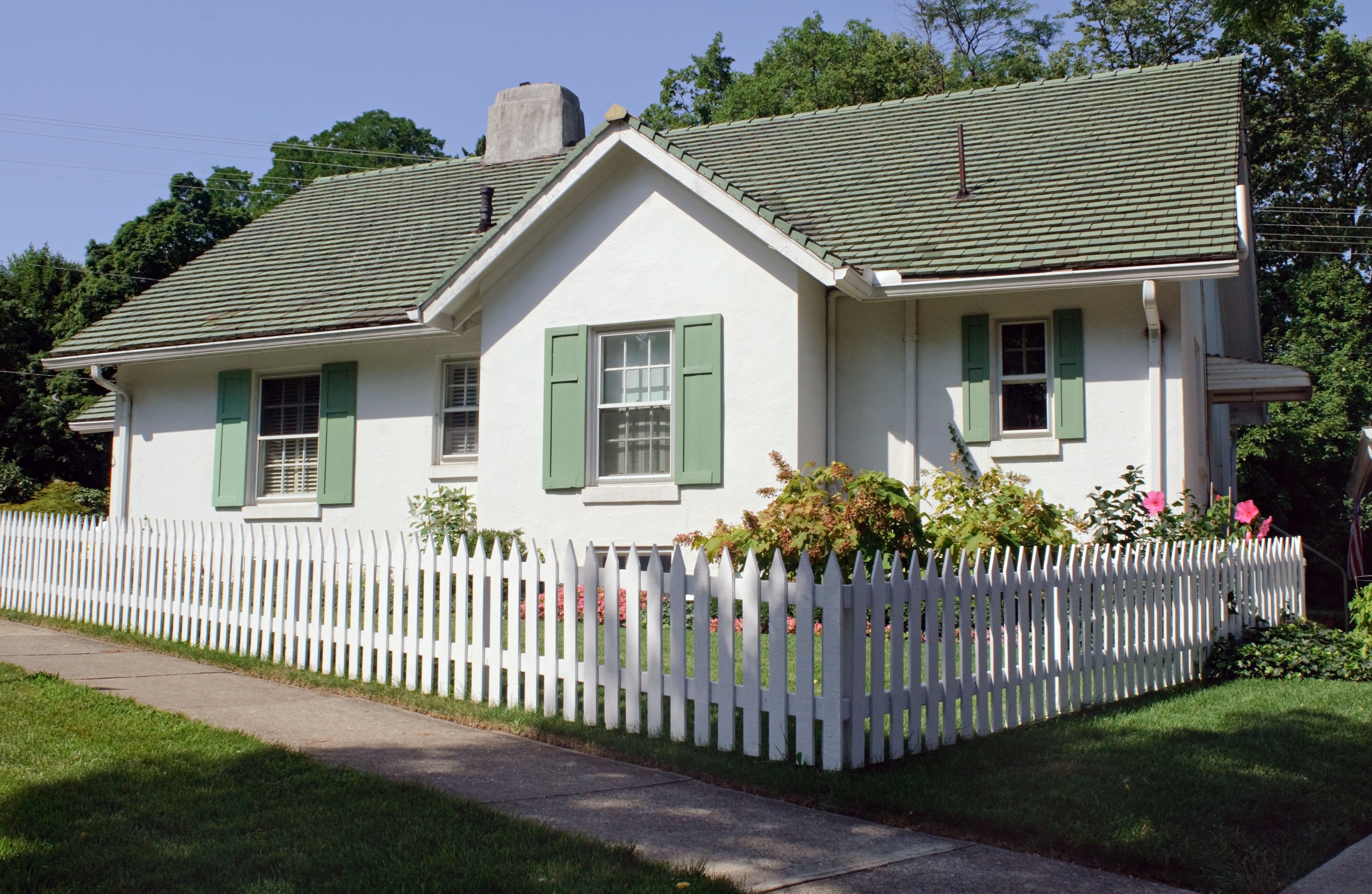 Cottage style homes are often on the small side﹘typically one story﹘but thought of as cozy and charming. Common features of a cottage include shingled or stucco walls, small porches, bay windows, and a gable roof. Though small, cottage-style homes are well designed and known to have an efficient footprint. They can be found anywhere, but are most popular in the northeastern United States.
Mediterranean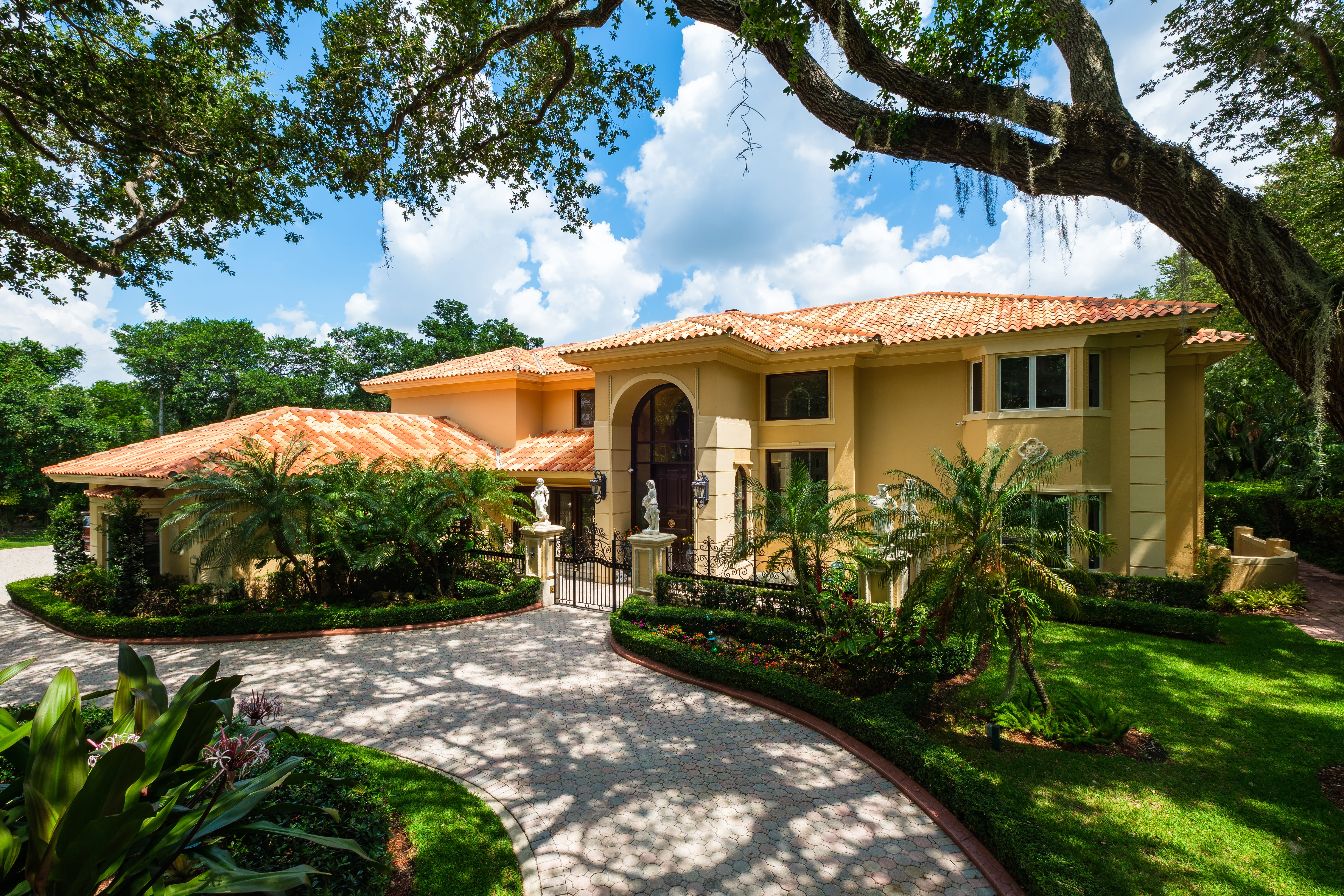 Mediterranean homes are popular in California and Florida because of the influence of Spanish colonizers in these regions. These homes typically have a courtyard that incorporates indoor and outdoor living and maximizes air circulation throughout the house﹘perfect for warmer climates. Other notable features include white stucco walls mixed with warm wood and stone accents, tiled roofs, and arched doorways and windows.
Ranch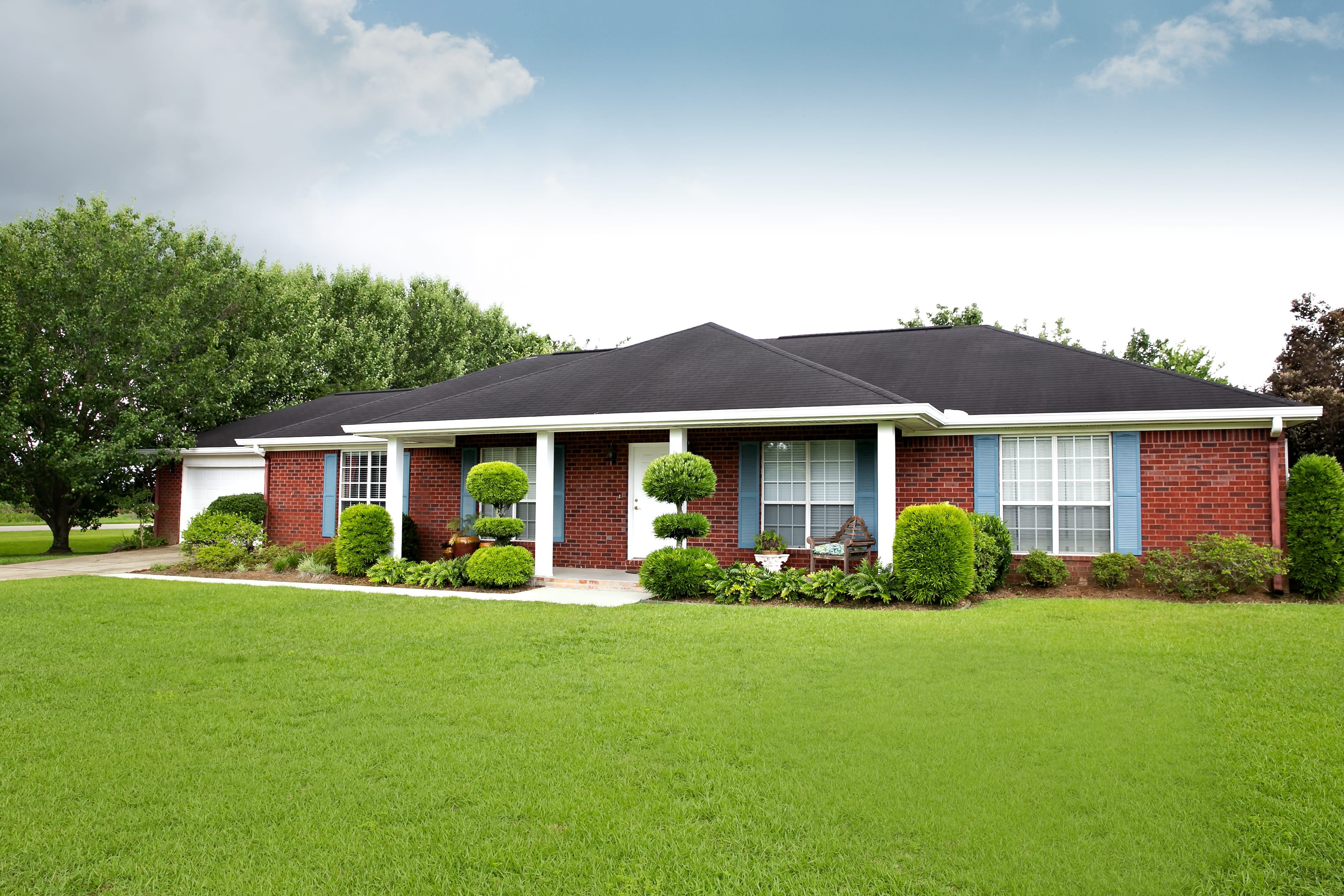 If you're looking for a spacious, one-story home, the ranch style may be suitable for you. Ranch-style homes usually have open floor plans, low-pitched roofs, and attached garages, but the style has been modified to meet the demands in certain locations. For example, California ranch homes are often L- or U-shaped with sliding glass doors to encourage indoor/outdoor living. Raised ranches, on the other hand, sit up on a foundation and are often found in areas where clay in the soil causes drainage problems.
Colonial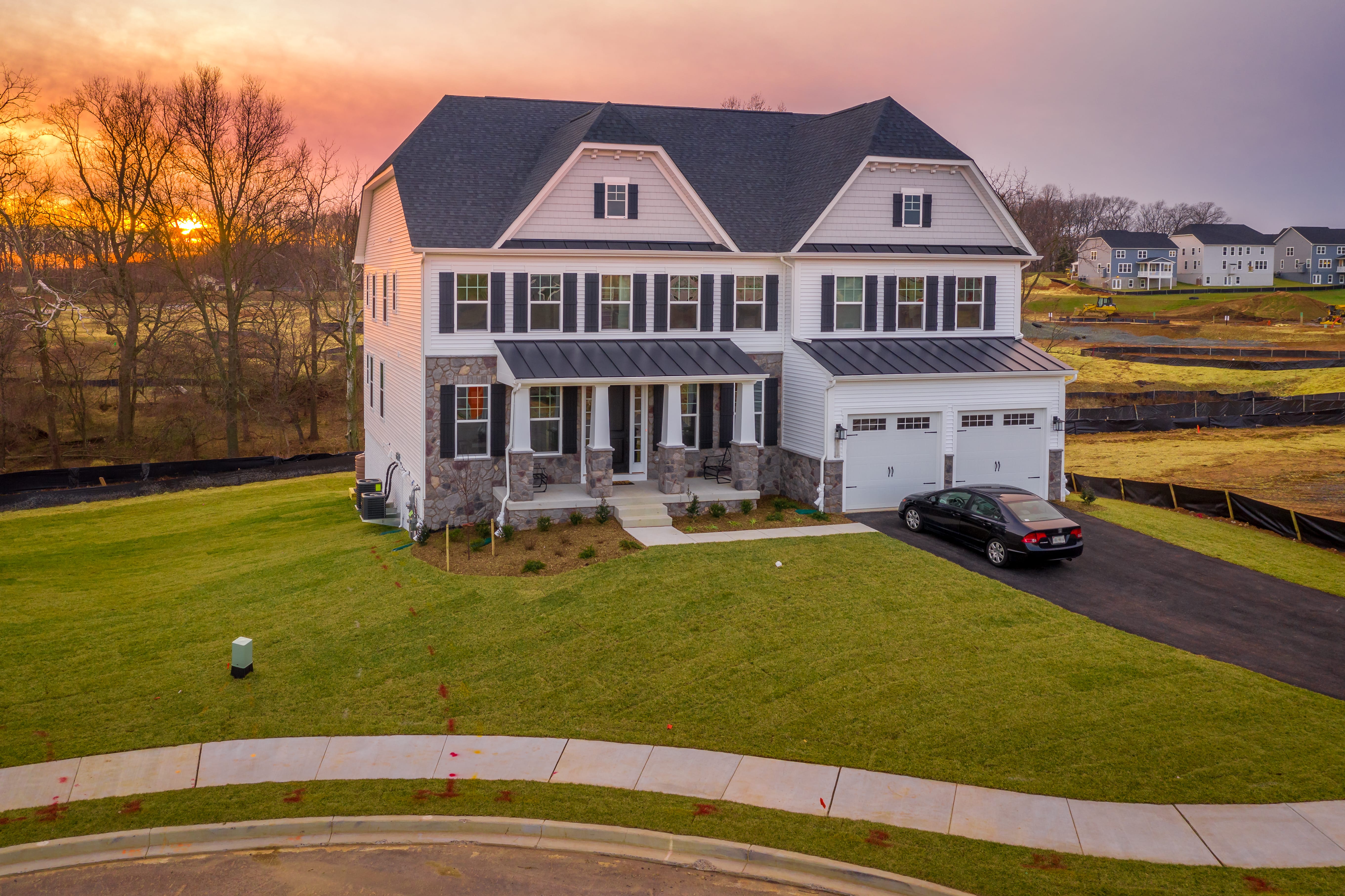 The general structure of colonial style homes is simple and symmetrical. These two- or three-story rectangles boast ample space with grand entryways, central staircases, and wood shingles on a shallow gable roof. There are several variations, often depending on where a colonial home is found. We've listed a few examples below:
Dutch Colonial. You can usually identify a Dutch Colonial by it's gambrel roof. Also called a barn roof, these double-pitched roofs start out with a relatively wide, flat slope that then takes a sharp downward turn. Dutch Colonials are often found in New York, Pennsylvania, and New Jersey.
French Colonial. Popular in many parts of Louisiana, French Colonial homes have either steep hipped roofs or side-gabled roofs. Other prevalent features include large wraparound porches with columns, French doors, and shuttered windows.
Spanish Colonial. Spanish Colonials, typically found in Florida and the Southwest, are designed for hot weather. Their thick stucco walls capture heat that then warms the house as temperatures cool in the evening. The windows of a Spanish Colonial house are small, but usually only covered with wrought iron to allow breezes in.
French country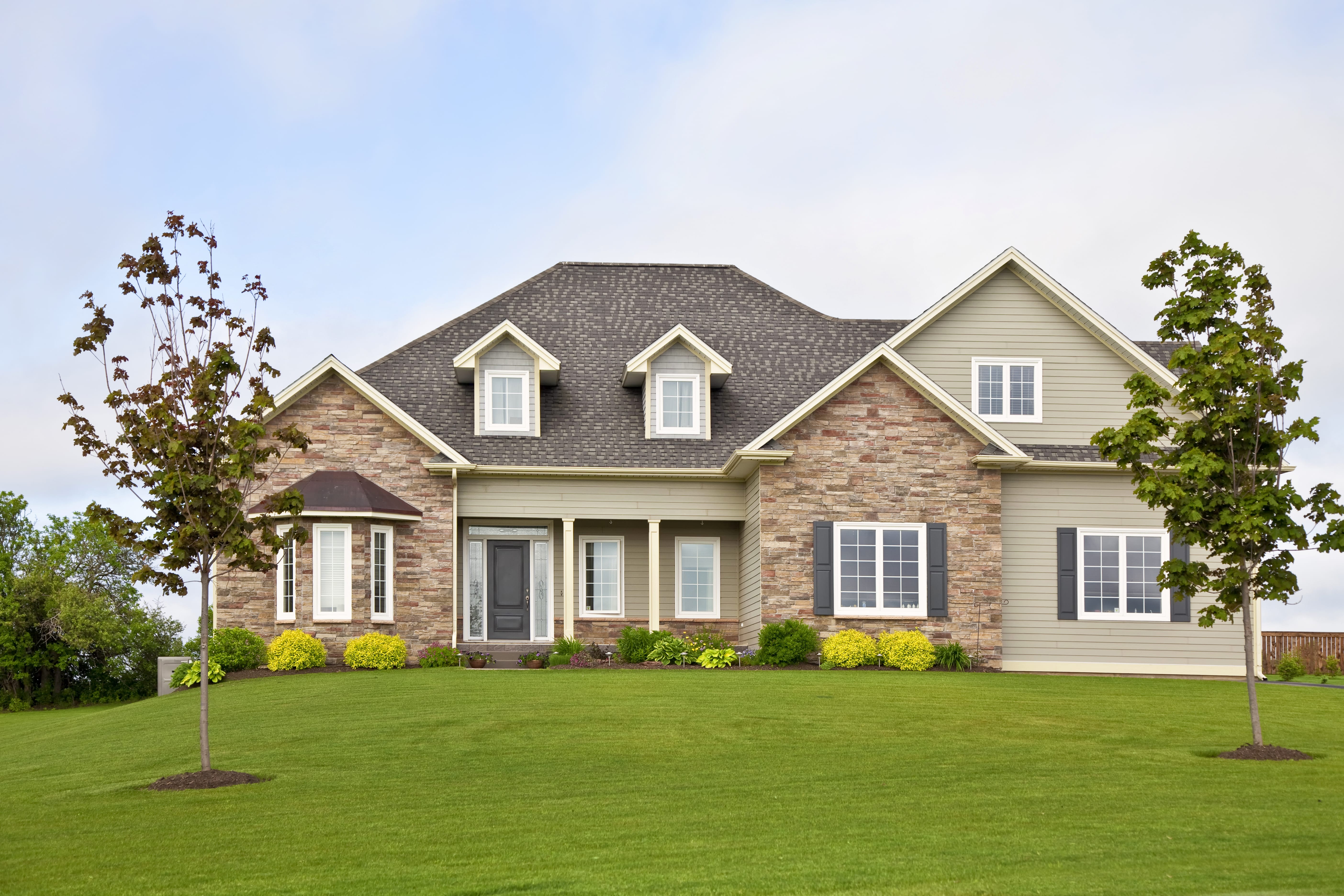 The French country home typically has a natural stone facade;, tall, multi-paned windows; and either a hip- or mansard-style roof. Another notable feature is the roofing material: clay, barrel-shaped, overlapping tiles. The interior often has two stone fireplaces, one for each side of the house, and distressed wood accents throughout.
Mid-century modern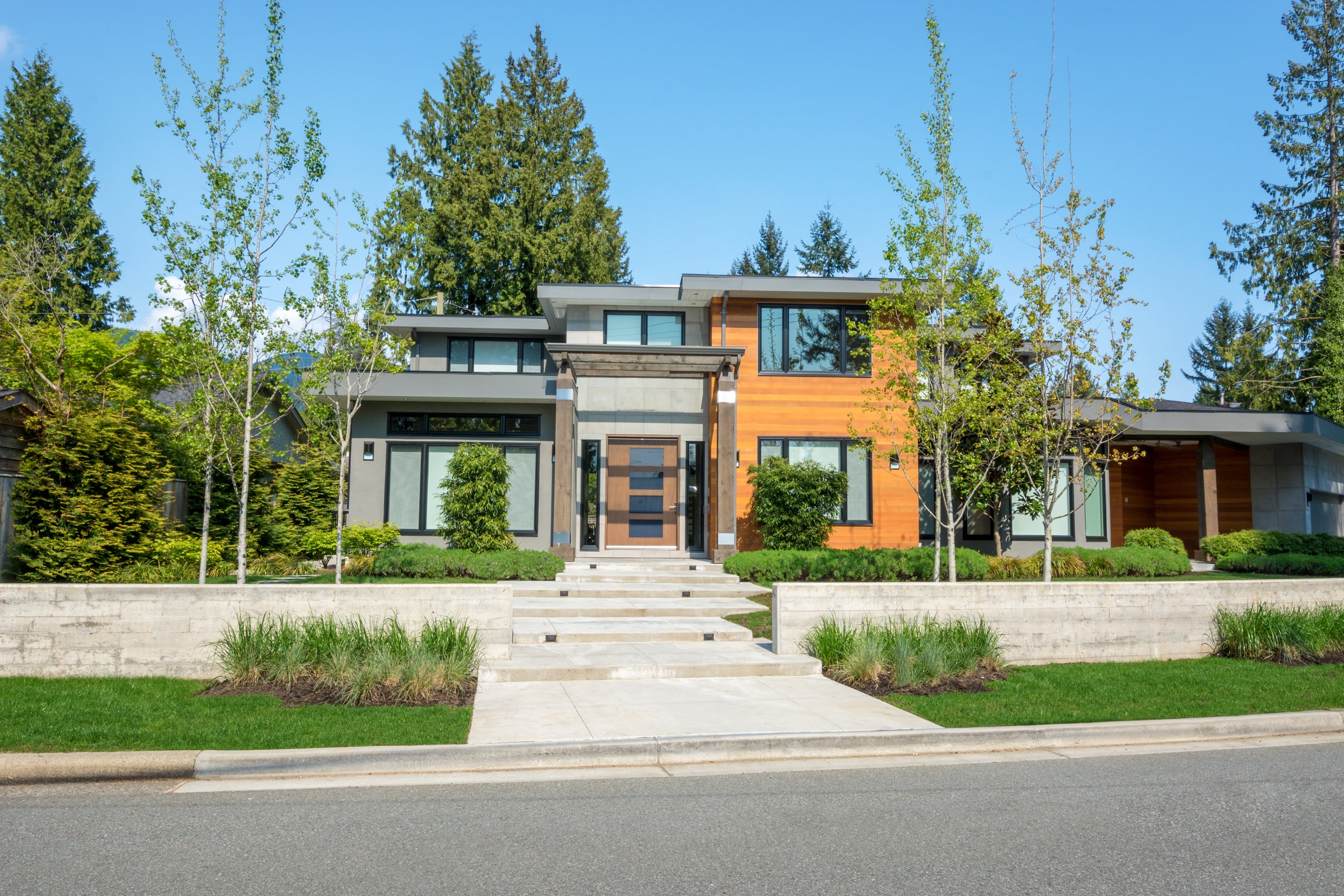 The end of World War II generated a new, forward-looking style for people looking to integrate with nature. Mid-century modern homes are sleek with flat roofs and angular features. Most also offer multiple ceiling-to-floor windows to encourage interaction with the outdoors, plus a mix of natural (often organic) and man-made materials.
Tudor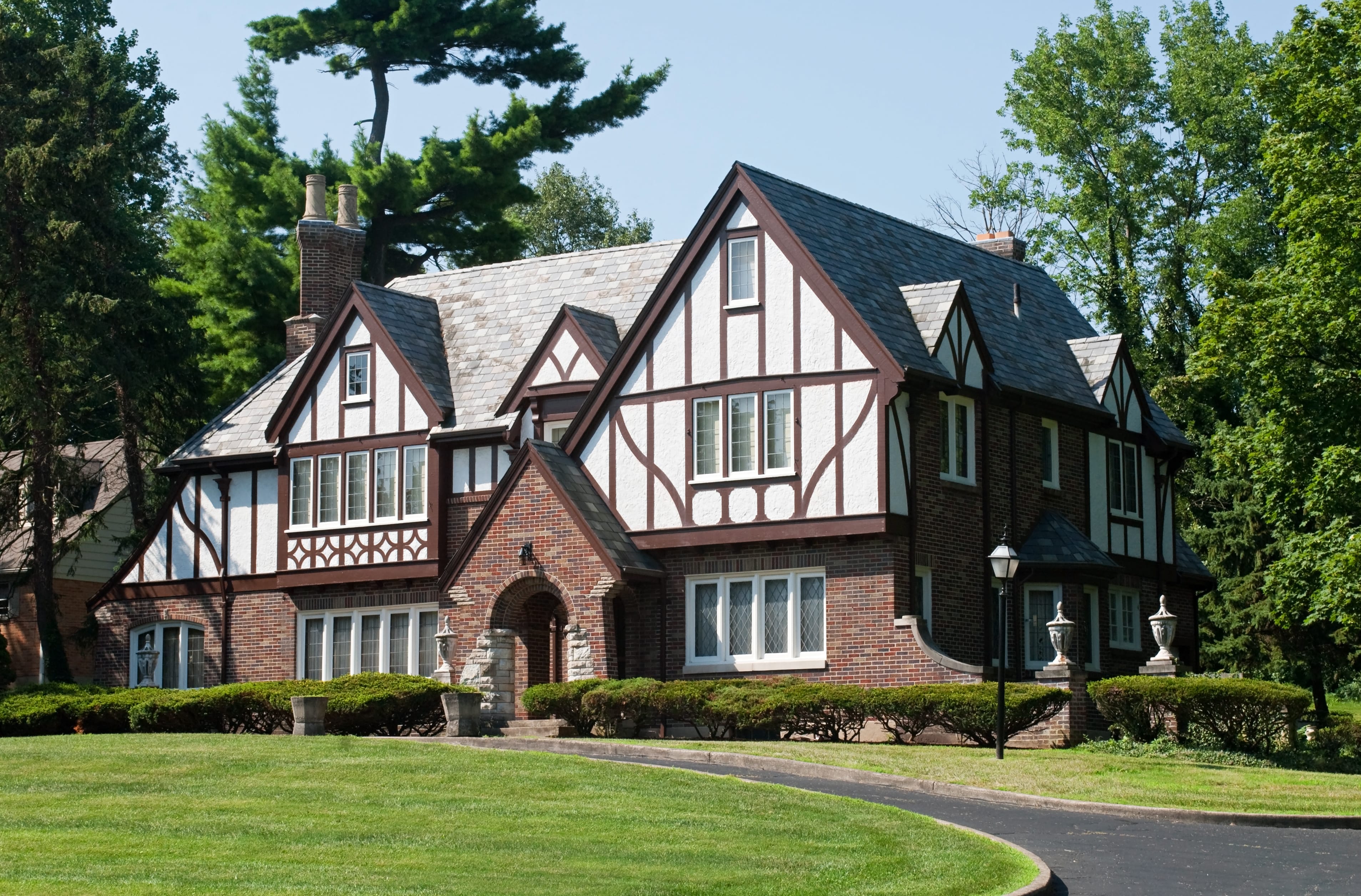 Tudor homes became popular throughout the US in the 1920s and are probably most recognizable by their first floor brick exteriors combined with a second floor made of stucco with decorative timber. These homes usually have steep gable roofs, asymmetrical floor plans, and tall leaded windows with multiple panes set in a diamond pattern.
Victorian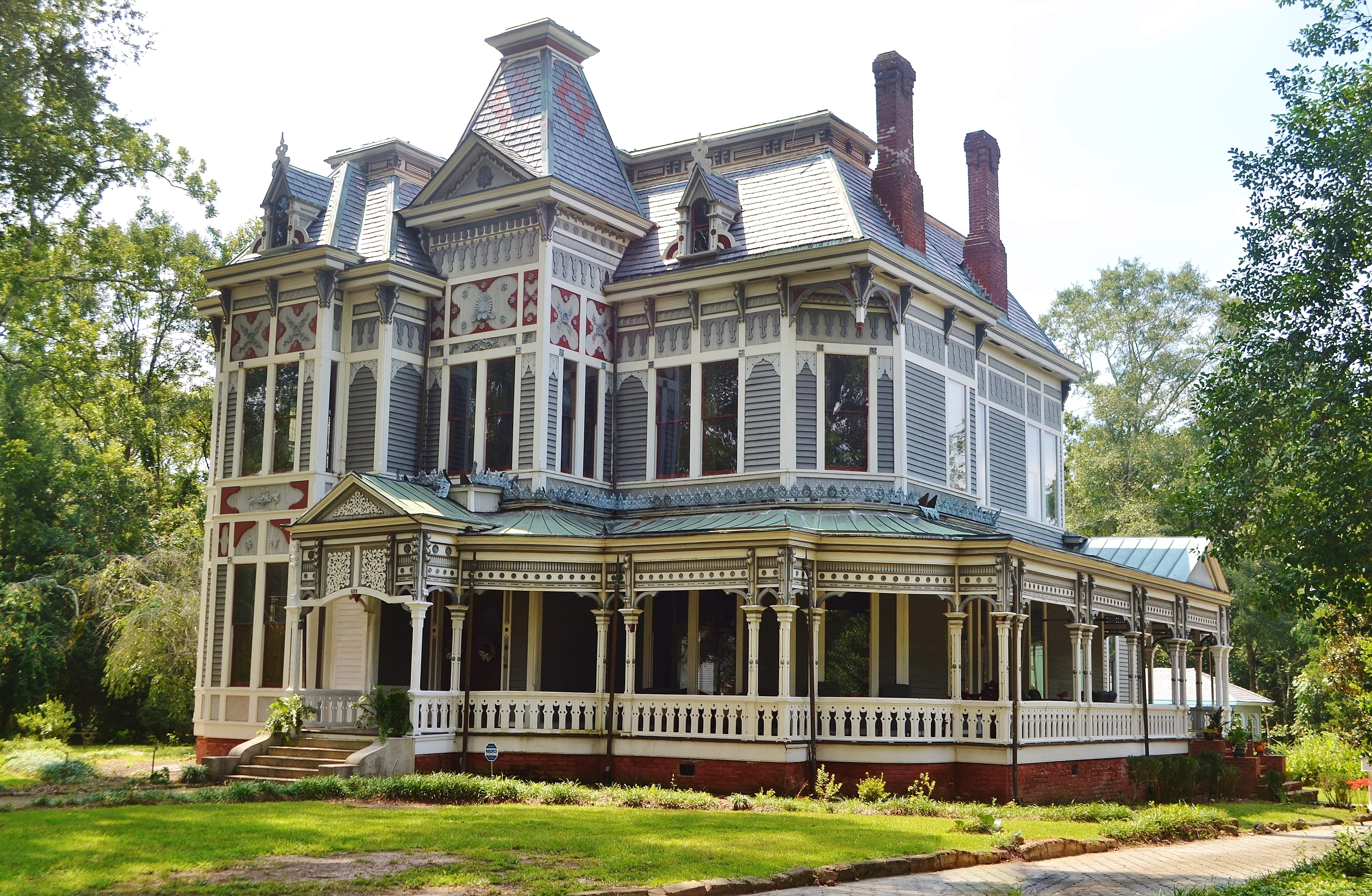 Introduced to the U.S. in the late 1830s, Victorian homes are often two to three stories and very ornate, with plenty of decorative trim, vivid colors, and an asymmetrical shape that creates several rooflines. Some even have rounded rooms resembling a castle tower. Other standout features include wraparound porches and large bay windows.
Craftsman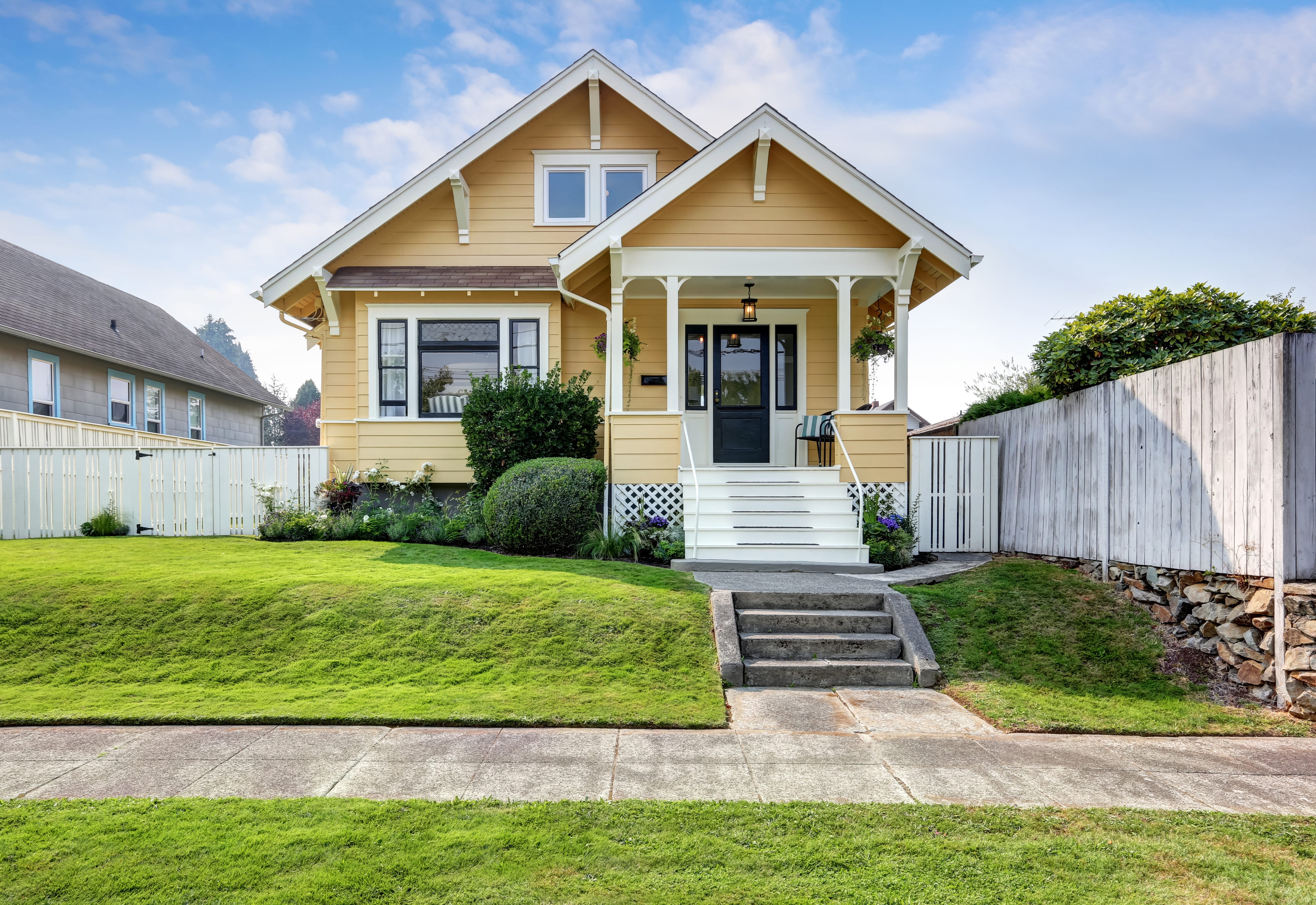 A craftsman home highlights its maker's skills through large overhangs, exposed rafters and beams on the exterior, and sash windows. These small and medium-sized homes usually have a low-pitched gable roof, open front porch with tapered columns, and large picture window. While the original craftsman homes had closed off interiors to distinguish one room from another, modern versions can have open floor plans.
Contemporary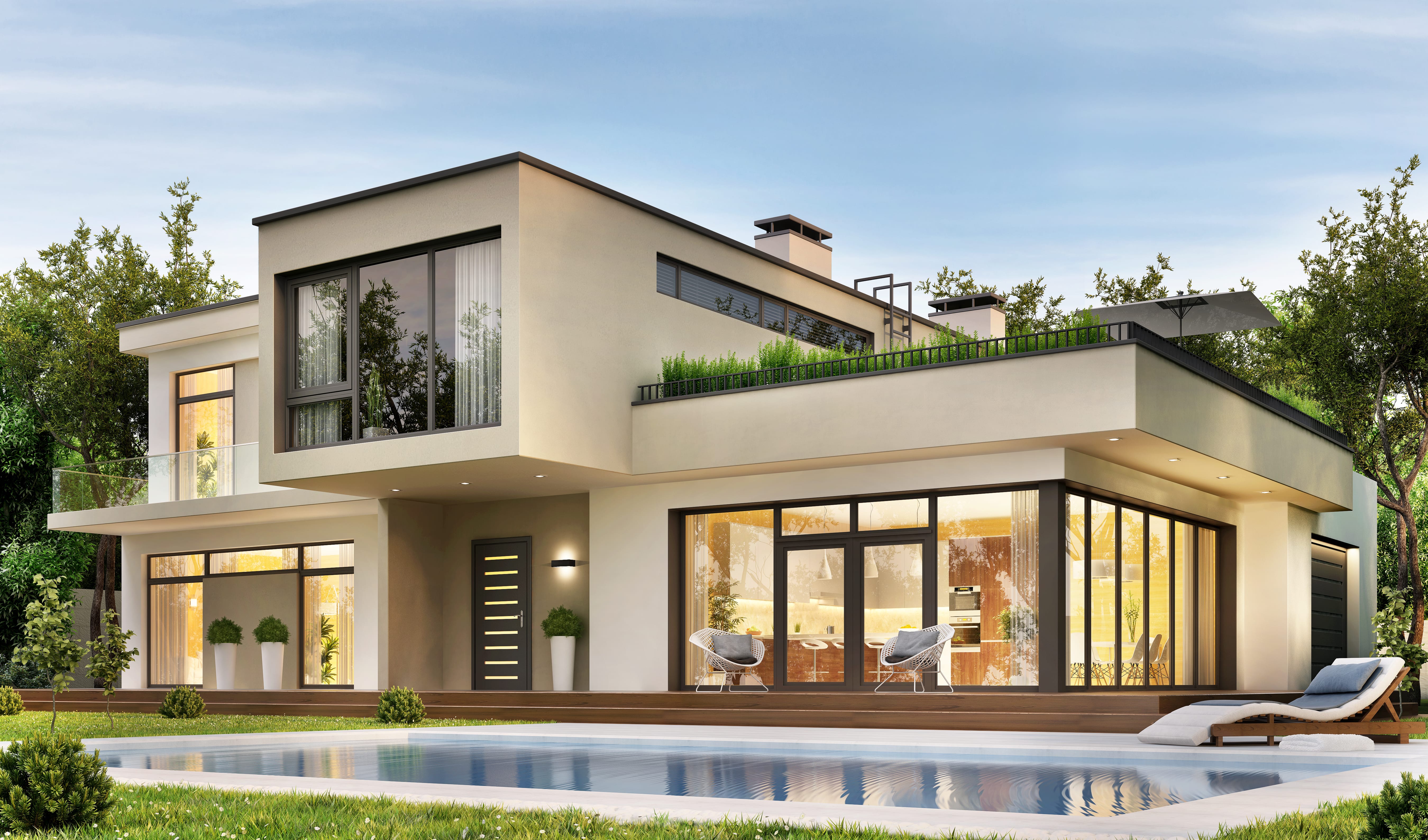 Contemporary homes incorporate elements of the modern style with a green twist. They use eco-friendly materials in a sleek design that uses glass to make spaces seem bigger than they are. Lines are strong and roofs flat, evoking a minimalist feel. And while many harken back to the angular features found in mid-century modern homes, some use free-form lines that echo shapes found in nature and create a feeling of movement.
Contemporary styles can certainly adapt to their communities. Realtor Shelton Wilder of The Shelton Wilder Group says that Los Angeles sees "a lot of new construction and remodels embracing the year-round warm weather with an emphasis on indoor/outdoor living." That might translate to large walls with floor-to-ceiling glass doors leading to a patio or side yard.
Cape Cod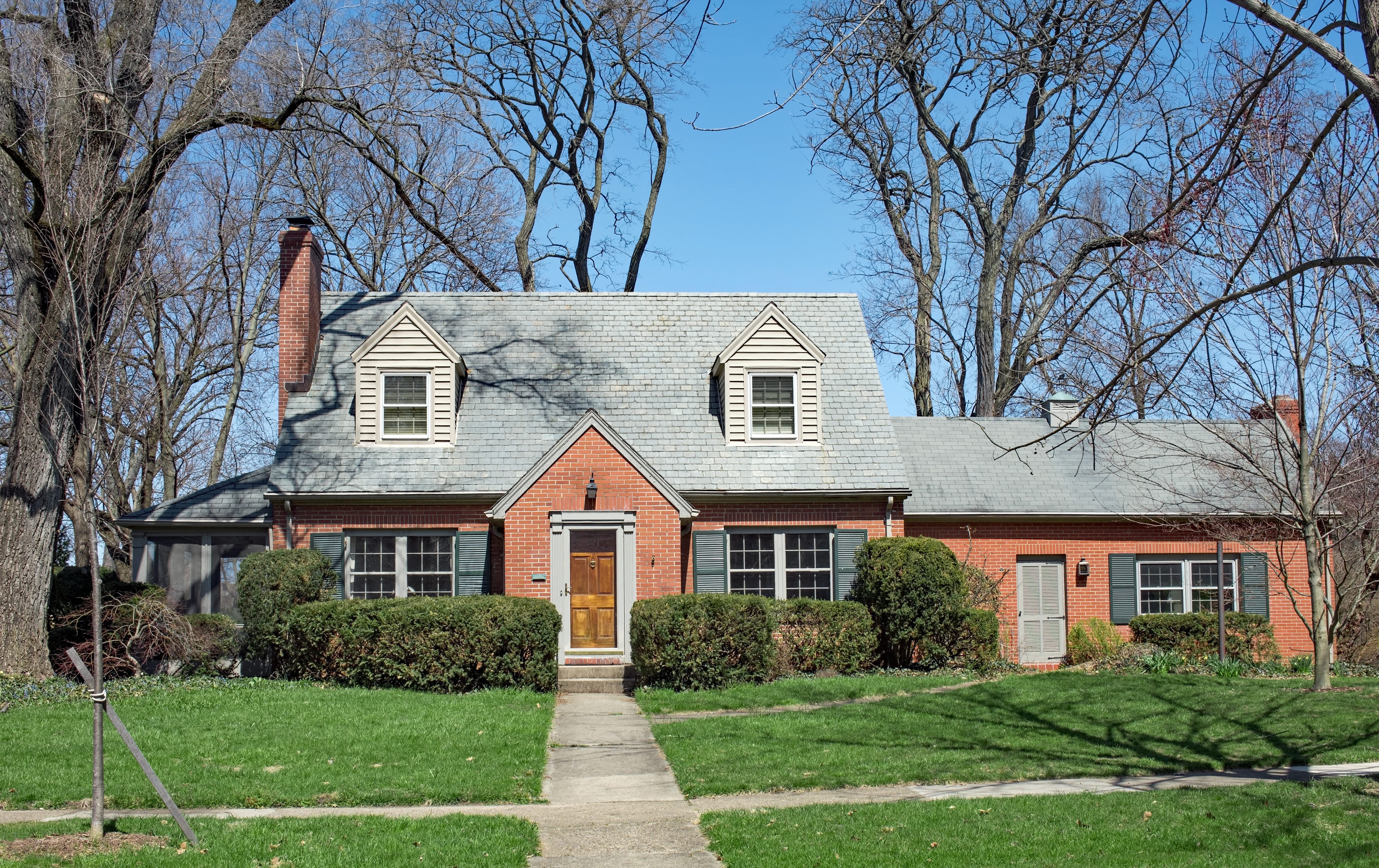 Cape Cod homes have a longstanding history in the US featured throughout New England communities. The standout feature of these symmetrical dwellings is the centralized chimney, but they're also known for their steep roofs and gabled dormers. Traditional Cape Cods have shingle wood siding, but newer versions may be made of brick or stucco.
The best type of house to buy
Choosing the best style house for you depends on a lot of factors. Cost, of course, is a major one. Some types of house styles are mostly found in places where real estate is expensive, so that drives up the average cost. Similarly, you may end up paying more if a particular style is rare in your area.
But you also want to think about what type of house fits your needs and preferences. You certainly don't want to get a townhouse if you hate climbing stairs or want a little space between you and your neighbors. However, if you're hoping to earn rental income to pay off your mortgage, then a multi-family home is a good choice.
Finally, you should love how the house looks. Let's say you find a colonial home that has the space you need, but you can't stand its boxy shape ﹘ walk away! You're spending too much money to live in a home you hate.
Tell your realtor the types of house styles that you're most attracted to and have them search the market for homes that fit the bill. Chances are that you'll find a wide range of prices, but with the right amount of patience and persistence, you'll find the perfect place to call home.