If you live in Florida, hurricanes are a reality you must prepare for. The 2020 hurricane season is proof: it now holds the record for the most active season in history with 30 named hurricanes and the most landfalls by a named storm in the US at 12.
Hurricanes and storms during the 2020 hurricane season caused $60 to $65 billion in damage. Though Florida held on despite landfall from Hurricane Sally and two landfalls from Hurricane Eta, it's a stark reminder of how important it is to protect your property.
Hurricane shutters can help you do that by keeping windows intact and keeping rain out. They can also qualify you for more wind mitigation credits that reduce your home insurance premium.
Best hurricane shutters
The last section of your wind mitigation report – that is, the inspection that shows how wind resistant your home is – addresses how your home's windows and doors are protected from flying debris. The inspector will check for shatterproof windows, bracing on the garage door, hurricane-rated doors, and hurricane shutters.
Hurricane shutters are an easy way to make sure your home gets this credit.
And because there are a lot of choices when it comes to hurricane shutters, we've evaluated some of the most common types and ranked them based on their protection, ease, and affordability. You'll find pros and cons for each type of shutter. Let's dive in!
1. Storm panels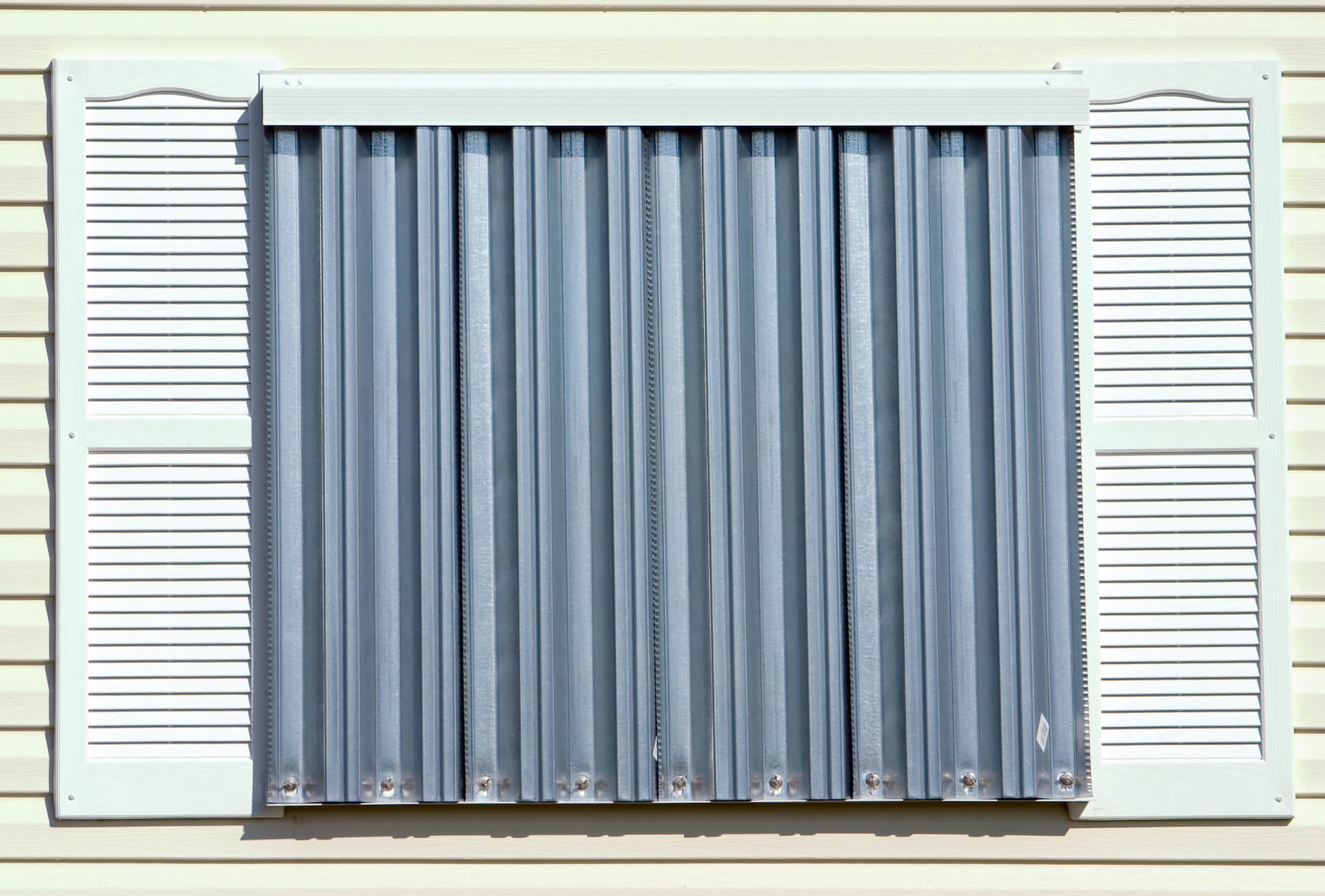 Storm panels are steel, aluminum, or polycarbonate shutters that attach to the exterior walls to protect windows and doors. There are three styles. The first slides into tracks alongside the window or door frame and is secured by bolts once in place. The second version uses C-shaped tracks both above and below the windows and is manually aligned with the holes positioned on the panels. The third version affixes panels over doors and windows with bolts.
| Storm Panel Pros | Storm Panel Cons |
| --- | --- |
| Cost effective | Takes up storage space |
| Can be removed after a storm | May require installation help |
| Excellent protection | Some types require additional hardware for mounting |
2. Rolling hurricane shutters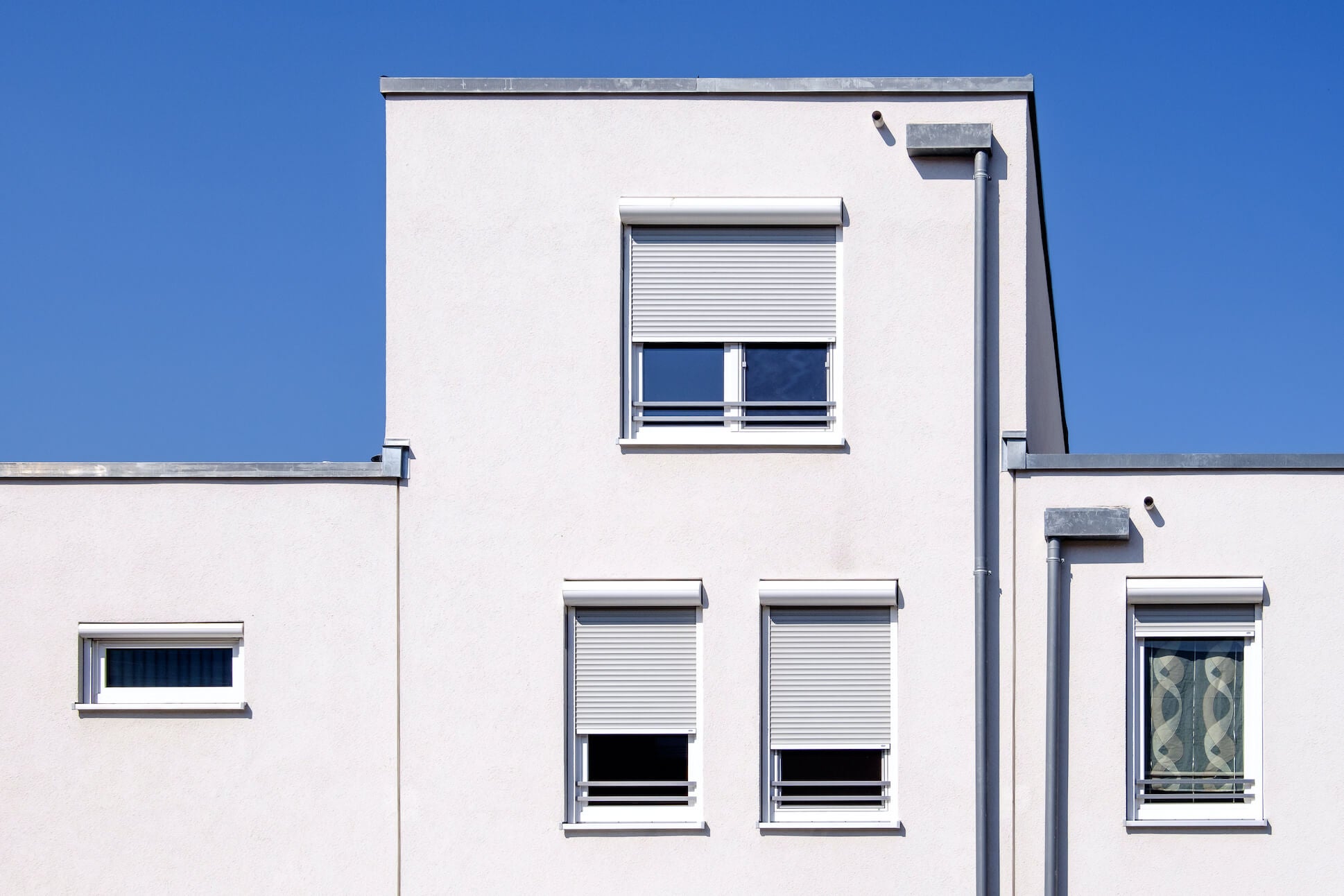 As you might've guessed, rolling shutters roll up and down over your home's windows and doors. They are an excellent choice for homeowners who don't want to fuss with installing and removing storm panels. When the weather's great, you can simply roll them up until the next storm comes. Some are even remote controlled.
| Rolling Hurricane Shutter Pros | Rolling Hurricane Shutter Cons |
| --- | --- |
| Some can be controlled with a remote | May require professional installation |
| Can be rolled up when the coast is clear | Prices vary |
| Extra insulation and privacy | Permanently affixed |
3. Accordion hurricane shutters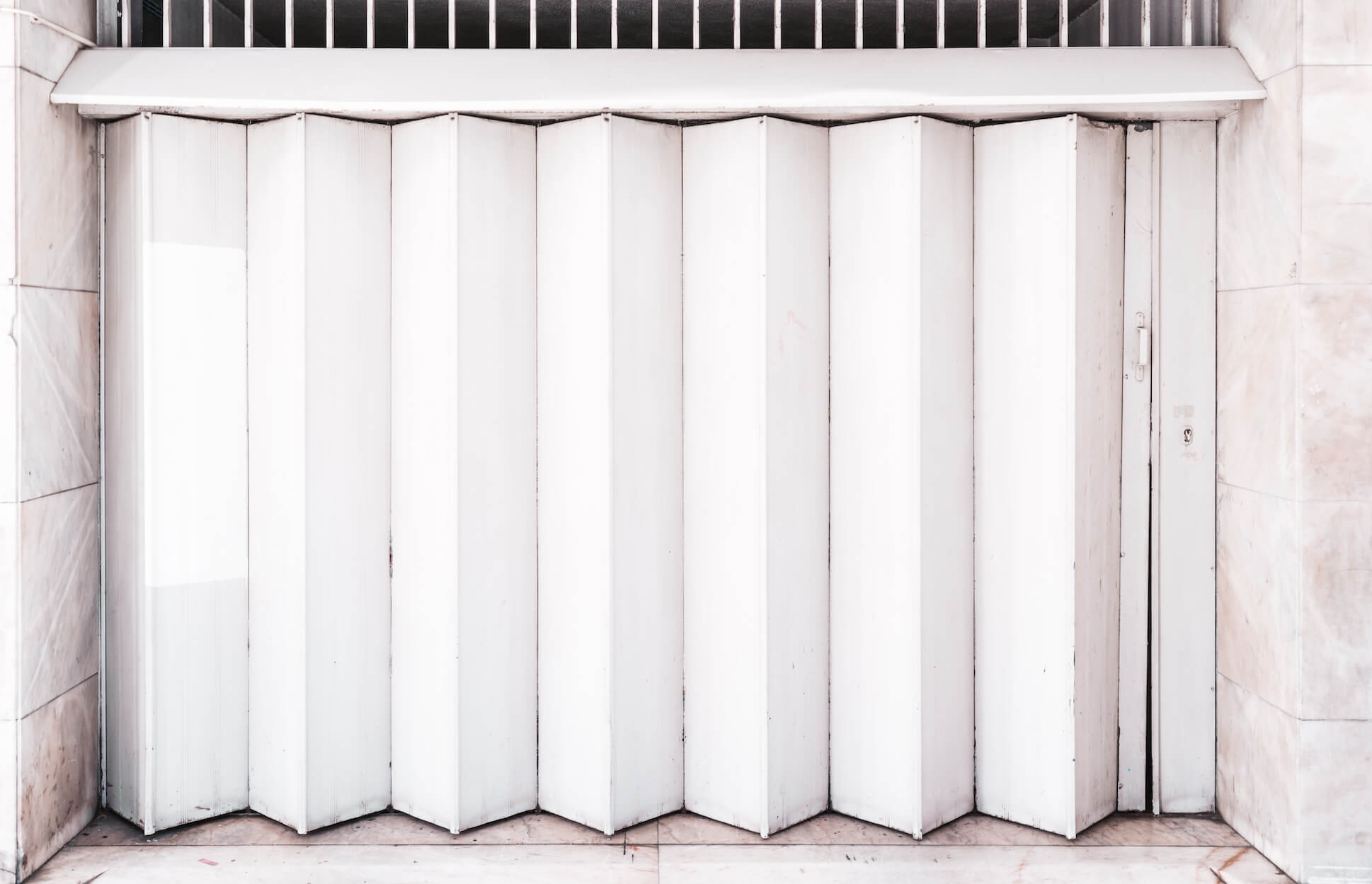 These permanently affixed shutters expand like an accordion to cover any opening, including windows, doors, sliding glass doors, and balconies. The accordion shutter rolls along a base of wheels that glide the panels into place where they are locked shut. These are quick to secure when a storm approaches – about 30 minutes, depending on the size of the house.
| Accordion Shutter Pros | Accordion Shutter Cons |
| --- | --- |
| Permanently attached | Can get bulky in large spaces |
| Easy to install | Wheels may require maintenance |
| Can be locked shut for theft protection | Some options are pricey |
4. Colonial hurricane shutters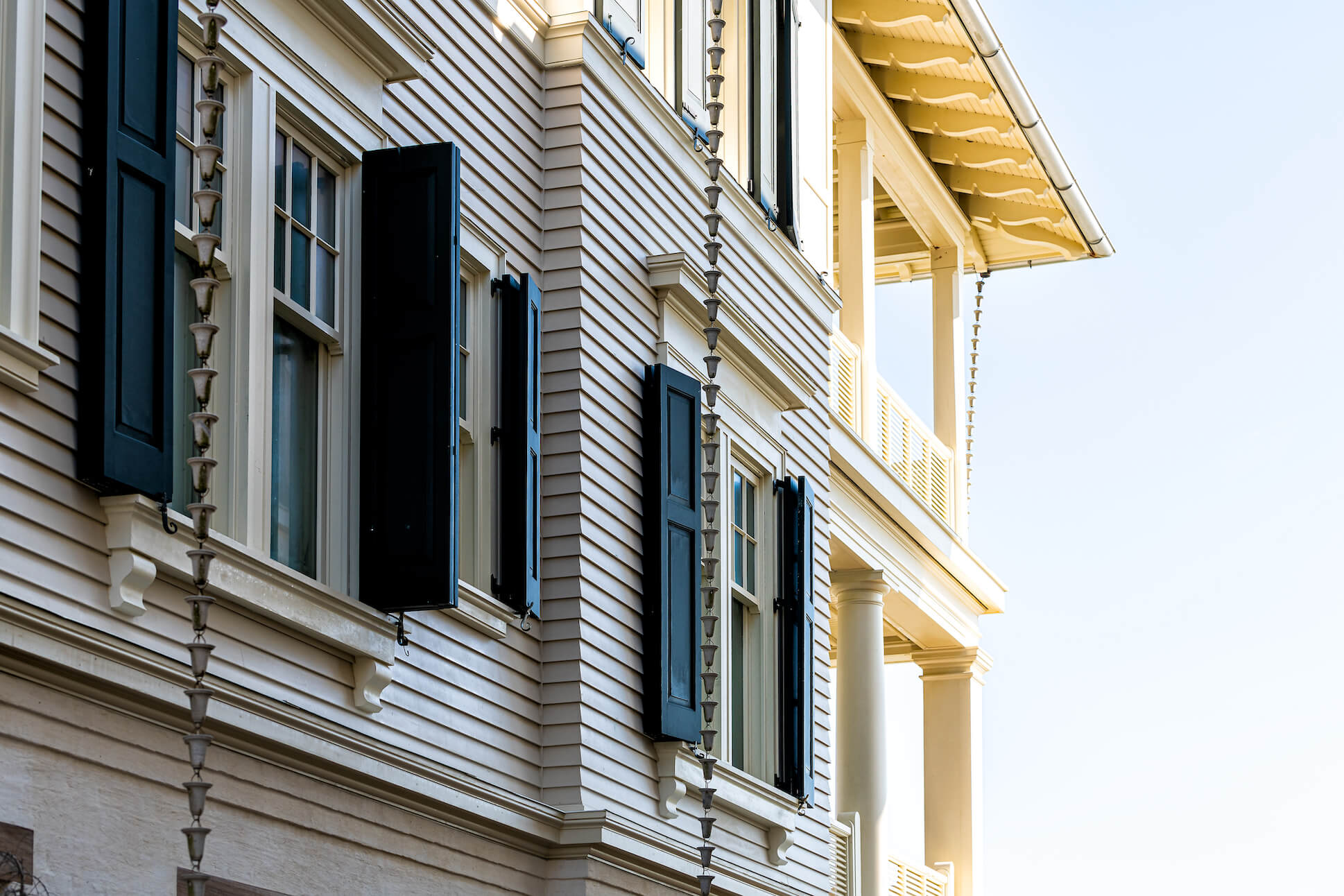 These hurricane shutters are affixed with hinges on each side of your windows. Though they're made of metal, they have the appearance of wood and are a really attractive accent to your home. Each shutter covers half the window, and you simply fold them toward each other to fully protect the opening. The shutters are bolted together across both sides to prevent flapping in the wind.
| Colonial Hurricane Shutter Pros | Colonial Hurricane Shutter Cons |
| --- | --- |
| Permanently attached | Pricier than other shutters |
| Easy to install | Many require a storm bar to lock |
| Aesthetically pleasing | Only available for windows |
5. Bahama / Bermuda hurricane shutters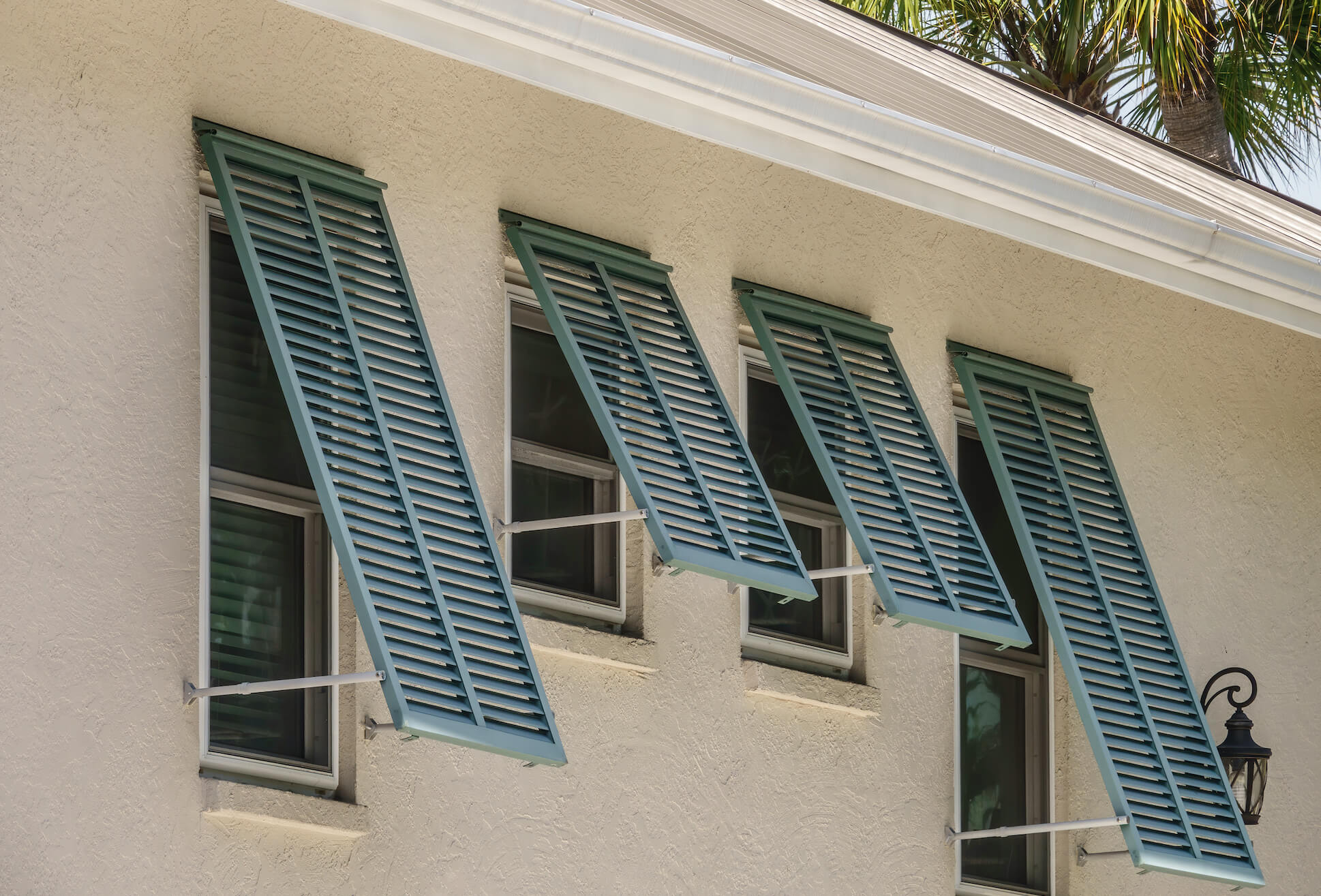 Bahama shutters, also called Bermuda shutters, are one piece of wood that mounts over the window. When not in use, they offer shade and extra privacy. As a storm approaches, you can easily lower the shutters over the windows to completely secure the opening. These lock at the base of the shutter and can get a home storm-ready within 30 minutes for an average-sized home.
| Bahama Shutter Pros | Bahama Shutter Cons |
| --- | --- |
| Permanently attached | Not as strong as other shutters |
| Easy to install | Can block light into home |
| Adds shade and privacy when not in use | Only protects windows |
6. Hurricane fabric
Hurricane fabric is a screen that protects openings against extreme weather. Because it's a fabric, it's ideal for large openings like patios and garage doors. This is a permanent option, and costs vary depending on the manufacturer. In order for this to qualify you for wind mitigation credits, the fabric would need to be approved by Florida and meet cyclic pressure and impact standards.
| Hurricane Fabric Pros | Hurricane Fabric Cons |
| --- | --- |
| Permanently attached | Does not always meet code |
| Usually inexpensive | Must be professionally installed |
7. Plywood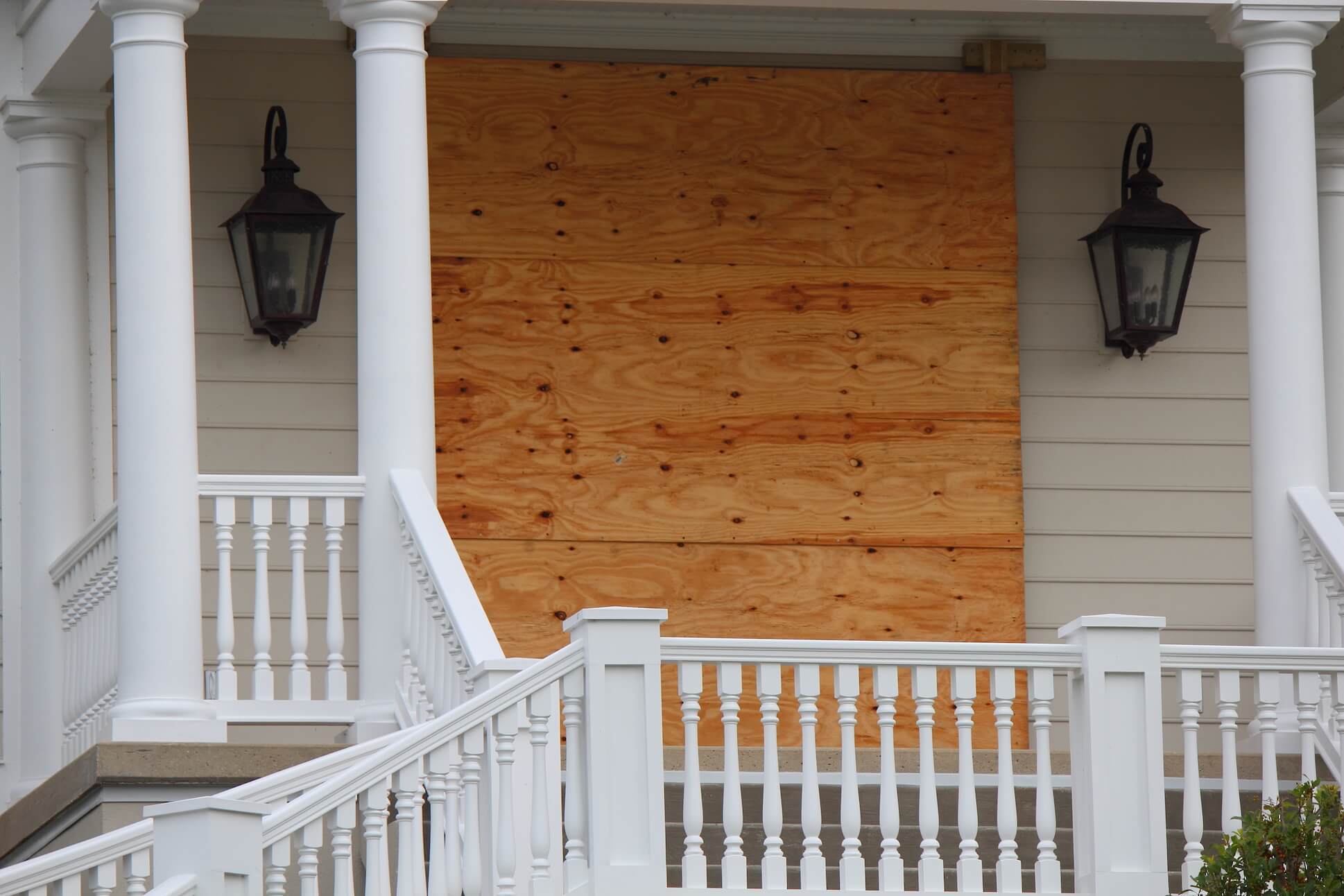 Barring windows and doors with plywood sheets is a time-tested last resort for protecting the home during a hurricane. Ideally, the plywood would be cut to fit the inset of the window. If there are larger windows, two plywood boards can be used with a piano hinge to join them. This is a time-consuming option that can take more than an hour to install on each window.
| Plywood Pros | Plywood Cons |
| --- | --- |
| Inexpensive | May not cover openings entirely |
| Can be removed | Requires help for installation |
| Last-minute purchase | Leaves bolt holes |
A note about hurricane glass
Rather than install shutters, many homeowners are turning to hurricane glass, or impact-resistant windows. These are shatter-resistant, dual-paned windows that can withstand hurricane winds and projectiles moving at high speeds. Hurricane glass is a permanent solution that replaces old windows and must meet local building codes. Most newly built homes in Florida have hurricane glass instead of traditional windows and sliding glass doors. Learn more about impact-resistant windows.
Even if you have hurricane windows, you can still install hurricane shutters for extra protection.
Final thoughts on choosing hurricane shutters
To pick the right hurricane shutter, know what type of protection you want, how quickly you want to be ready for a coming storm, and what your budget looks like. While some options like plywood may be cost effective and durable, they are time consuming and can damage exterior walls. Metal storm panels, on the other hand, have permanently affixed tracks that blend in with the home. Whichever you choose, make sure you allow yourself ample time to prepare for a storm.