If you have a mobile home and you need insurance, chances are you need to get familiar with your vehicle identification number (VIN). Your mobile home VIN number is more than just a registration number – it holds key information about your mobile home.
When you're ready to get a quote for mobile home insurance, find your VIN. You'll need it to get an accurate rate.
What is a mobile home VIN number?
Think of your VIN as a code that contains details about your mobile home. It's an easy way to identify:
The manufacturer. The first piece of information found in your mobile home's VIN is an abbreviation for its manufacturer. Typically, these are three letters that tell you who made the mobile home.
The state where it was built. The next two letters identify the state where the home was built.
Serial number. This set of numbers assigned by the manufacturer is unique to your home.
Section code. This letter tells you if the mobile home has more than one section and where the data plate is in the home. Single-wide homes with only one section don't have a section code. Sections are defined as A or B to signify double-wide and triple-wide homes respectively.
The VIN on your mobile home should match the VIN listed on the ownership title. If you have more than one section, you most likely have a VIN and title for each section of your home.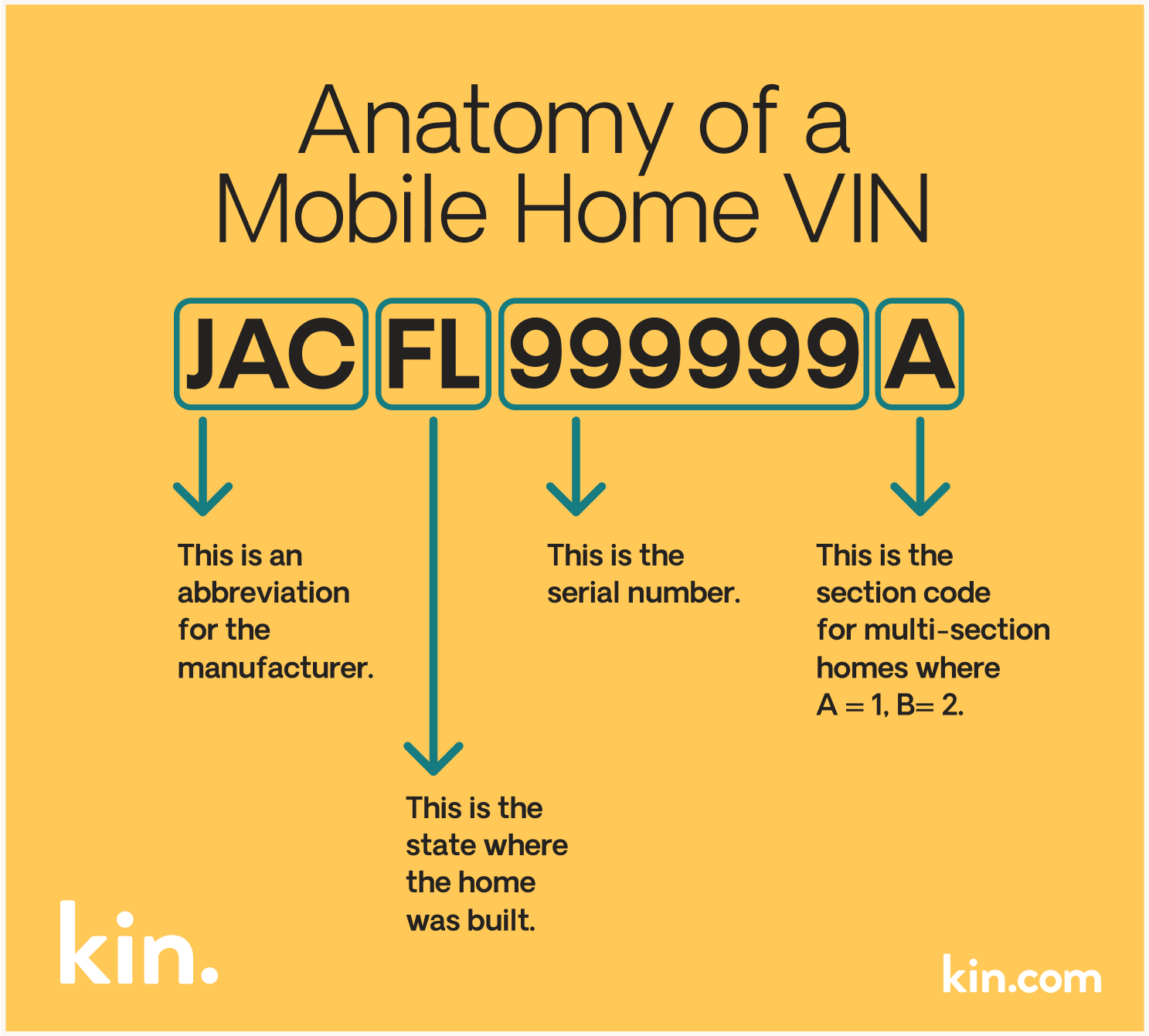 This sample mobile home VIN tells us the home was manufactured by Jacobsen Homes in Florida, its serial number is 999999, and that its for section #1 of the home.
Where to find your mobile home VIN
Your mobile home VIN number is often found:
On the data plate inside your home.
Stamped on your mobile home's steel frame.
The Department of Housing and Urban Development (HUD) requires every mobile home to have a data plate, which is installed while the home is built in the factory. The plate can often be found on the master bedroom's closet wall, under the kitchen sink on the cabinet doors, or near the home's HVAC system closet, electrical panel, or backdoor. Some mobile homeowners find that the data plate has been removed or painted over, so you may need to do some exploring.
Your VIN may also be located on the exterior of the home. Mobile homes with more than one section usually have a slightly different VIN for each section.
If your mobile home already has a skirt around it, locating the steel chassis may be difficult. You're looking for letters and numbers that are at least three-eighths of an inch tall. Look for the steel beam running parallel with the front of the home that the original triangular tongue beam attached to when transporting. This is one of the easier places to locate the VIN. For other areas of the mobile home, you may have to remove some of the skirting to locate it.
What's on a data plate?
In addition to your mobile home VIN, that data plate has other handy information:
The manufacturer's name and address.
A serial number with model designation.
The date of manufacture.
A statement required by HUD: "This manufactured home is designed to comply with Federal manufactured Home Construction and Safety Standards in force at the time of manufacture."
A list of certification labels affixed to each transportable section of the home.
A list of all factory-installed equipment.
A map and reference with wind zone, snow load, and roof load of the manufactured home.
You should protect your data plate if you ever remodel or repair your mobile home. Put plastic over it and take and store photos of the plate to make sure the data remains accessible.
What to do if your data plate is missing
The data plate is attached to a cabinet or wall on the interior of the home and should never be removed. In fact, if you plan on remodeling cabinets, you want to take the data plate off and reaffix it to another cabinet or wall. But if it is lost or missing, you'll need to replace it in order to legally sell the home, make improvements, or get insurance.
You can only get a new data plate by applying for one with the Institute for Building Technology and Safety (IBTS). A basic certification costs $50, but you can get it expedited for $100.
What is a HUD tag?
While searching for your data plate and VIN, you may run across another important tag on your mobile home. This is a HUD tag (also called a certification label), and it's a two-inch by four-inch metal plate on the back exterior of your mobile home. On it, you'll find a three-letter that identifies the in-plant primary inspection agency that inspected your mobile home. HUD tags also have six-digit serial numbers that the label supplier furnishes.
All manufactured homes made after June 1976 must have a HUD tag. Additionally, insurers often require your home to have a HUD tag to ensure the home meets construction and safety standards. Many companies won't insure a mobile home without one.
What to do if your HUD tag is missing
HUD will not reissue your HUD tag if it goes missing. Instead, you need to contact the IBTS, which may be able to issue a letter verifying the specific certification labels that had been attached to your home. This gives your insurance company the necessary information about the home.
And now that you know where to find all this information about your home, let's see if you can save some money on your mobile home insurance. It only takes a few minutes to get a quote!
Editor's note: This article was originally published in August 2020. It has been updated for accuracy and comprehensiveness.